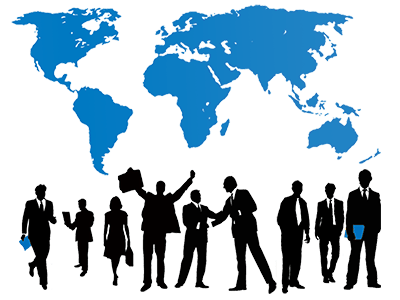 Our services range from traditional standard translations and proofreading projects to bespoke collaboration shaped around your individual needs. Quality, reliability, discretion and punctuality are hallmarks which characterise our work. We strive to the highest of standards. The services we provide are in full accordance with the quality requirements for translation services stipulated in the current European standard DIN EN 15038:2006 and in its forthcoming successor DIN EN ISO 17100, soon to be in effect.
Professional translations
Our translations are carried out by qualified translators with years of professional experience, translating only into their native language and ensuring that their work takes into account local idiomatic expression.
The bottom line is that we translate any documents from any specialised field* into any world language.
Alongside popular Microsoft Office programs, we work with state-of-the-art CAT-tools as a matter of course to ensure consistent terminology and strict content compliance for your texts.
*Business letters, books, brochures, instruction manuals, IFUs, product descriptions, patent applications, general documents, certificates, websites, presentations, commercial and legal documents, expert reports, invitations for tender (ITTs), medical studies/medical records and many others.
Basic Translation
If you are in a hurry and ever need it quickly then we are very happy to prepare a basic translation for you. This is really for informational purposes only. You'll receive a simplified or basic translation so that you can make swift progress in what you need to do. At this service level you won't be incurring unnecessary expense for quality assurance as the working process is reduced down to the necessary minimum to really save you time and money.
Summary Translation 
When it comes to summary translation you will receive a short overview of the information that you need. We read through the documents provided to us and only translate the sections of text which contain the specific information that you want. As with basic translation you can make quick progress and benefit from a saving in costs, since unnecessary sections of text do not have to be translated.
Interpretation
As a part of global trade across open borders, specialists and managers from business and politics meet continually at international level. Verbal communication is indispensable in such meetings. Our highly-experienced interpreters will reliably accompany you to all meetings and help you achieve your objective with utmost confidence.
Proofreading (proofreading or editing)
Proofreading means the revision of a translated text for spelling, grammar and syntax errors as well as style. Editing also includes content review. We will correct your texts quickly and reliably to provide you with an impeccable document that you can use without any concerns.
Value-added services
Express translations (rush Service)
Round-the-clock service
Certification
Software localisation, layout and PDF design
Software localisation and development, editing and implementation of layout are also part of the service we offer. We professionally design leaflets, instruction manuals, flyers and brochures such as PDF files or other formats.
DTP, graphics and website design, print templates, print
Would you like to give your website a more modern design or create a multilingual website? Then we are the right partner for you! We can put you in contact with experts in this area while also helping you design layouts, graphics and print templates. We cooperate closely with competent DTP studios and printers. Profit from a cost-efficient and time-saving all-round service from our one-stop shop.
Customised service
A service individually tailored to your needs, wants and requirements, helping you in your international activities, is also part of our wide range of services. We offer planning, advice, organisation and support services for your activities abroad. Let us know what we can do for you!
Back office solutions
Our wide range of services also includes various back office solutions such as phone calls, organising conferences and processing matters related to customs. If you have any requests not currently listed among our services, please do not hesitate to contact us and let us know what you need. We always look forward to new and exciting tasks!
Emergency hotline
We will not let you down. If you are in the unfortunate situation of needing help from an interpreter/translator right away, just call us! Our hotline can be reached around the clock, 24 hours a day.
Formatting 
Ensure that your translation is kept just like the original document, e.g. page for page and paragraph for paragraph; this even goes for scanned or PDF documents. Our normal capacity is about 3,000 words daily per language but if necessary and with prior notice we can certainly accommodate more than this.
Additional Services
Voice-over, subtitling, transcription of audio or video material, arranging language courses or language training, with more on request.
Are you looking for a specific service not listed? Contact us! We're all ears when it comes to projects and requests of all kinds regarding translation.